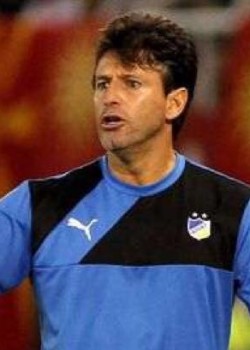 Domingos José Paciência de Oliveira is a Portuguese coach and former Portuguese international footballer.
It was considered in January 2011 as the 9th best football coach in the world in an annual ranking, published by IFFHS.
As a player he was a born striker and an idol for the fans of Futebol Clube do Porto, where he played most of his career, having played in Tenerife, representing the national team for thirty-five times, having scored Nine goals at his service; Was national champion seven times and won two cups of Portugal and six supertakes.
With a coach, he started by coaching the youth teams of FC Porto and then his team B, União Deportiva de Leiria, Coimbra Academic until the end of the 2008/2009 season, when he took Académica to 7th place in the league, one Position that the club had not reached for several decades.
He went to Sporting Clube de Braga, having been in the second place in the league, a position never before achieved by Braga, having even scored for the first time the team for the Champions League, Domingos led the team to the final of the Europa League after eliminating important teams , Such as: Liverpool, Dynamo Kyiv and Benfica.
He trained the giants of Sporting, Deportivo da Corunha and the Turks of Kayserispor, Vitoria de Setúbal and the last club that trained was APOEL.
He is an organized coach who likes technical football and attack, respected by all is a leader for ambitious projects that fight for titles.
They collaborate with Domingos Paciência in their technical team coaches Bruno Moura (SL Benfica, Paok, Al-Ahli Jeda among others) and Nuno Baptista (FC Porto and Al-Ahli).